At Woodridge we believe students are capable of receiving God's love and showing it to others. We understand that middle school and high school years are some of the most important developmental years in a person's life. How they spend their time, who they spend it with, and which voices they hear really matters. It's our goal to meet students where they are. We want to affirm their personal journey by encouraging them to have a faith of their own and mobilize them to keep pursuing an authentic faith.
SUNDAYS
We meet Sundays during the 9am services. Our focus on Sundays is learning to read the Bible through a method called SOAP (scripture, observation, application and prayer), memorizing scripture, having fun and connecting as a community.
WEDNESDAYS (during school year)
We start with a meal, followed by a game, singing praise to God, a large group teaching and then discussions in grade and gender small groups.
September 13-May 16 from 5:45-7:15pm, meal included.

We feed kids and students each Wednesday, if you would like to help cover food costs please donate below.
Volunteer on our Wednesday night meal serving team, sign up HERE!

VALLEY FAIR DAY
Join us at Valley Fair on Wednesday, July 18th from 9am-4pm for a fun day with friends. Cost is $35/student.
Register HERE
MIDDLE SCHOOL VBS VOLUNTEER
Come join our Aspen Grove middle school "on-site" service week where the middle school volunteers become the elementary leaders/assistants during our Woodridge VBS week (August 6-10). Middle school students will assist adult leaders in serving our younger children as they attend Woodridge's Vacation Bible School, "Shipwrecked."
Middle School student volunteers commit to being at Woodridge and available during the mornings of Monday-Friday (August 6-10) from 9am-12:15pm.

Click HERE to sign up to volunteer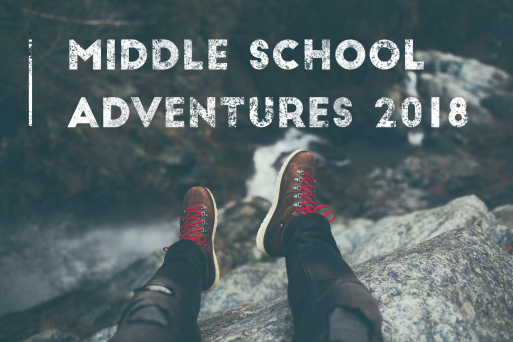 We are excited to announce a new event coming up for Middle School students at Woodridge. We encourage every student to invite their friends to spend a day packed with crazy adventures in the summer while learning about Courage, Faith and Trust.
It will be filled with worship, teachings and intentional time to grow as a community. Come ready to have fun, make new friends, and experience God in a new way.
SUMMER ADVENTURE
Join us at Wild Mountain on Sunday, August 19th right after our 9am service for a fun day with unlimited water rides, go-karts and alpine slides. Cost is $45/student.
Click HERE for more information and to register.

SPECIAL NEEDS BUDDY PROGRAM
To learn more about being a Buddy or registering your student please see this page.
MIDDLE SCHOOL STAFFING
Brice Kamtche and Elissa Madson were hired as Directors of Middle School at Woodridge in the Fall of 2017.
Click Here to visit our staff page and see more information about them.

If your middle school student or your family need care, advice or encouragement, please reach out to or .