Better Than: "How Are You Doing?"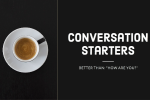 Better than: "How are you doing?"
Looking for better questions to ask than how are you doing? Check out the questions at these websites to get conversations going. Try a chat with a group of people and use two or three of these questions as a resource. Also, there is a great resource for fun questions to ask your kids at dinner. Hope you enjoy!
https://www.fastcompany.com/3054667/27-questions-to-ask-instead-of-what-do-you-do